Ashley is a lovely blonde girl behind the blog The Mrs. & Co. She blogs about her interesting life, family, fitness and her journey from trying to conceive and pregnancy to a mom. We love her writing style and her story of striving for getting pregnant. She's been diagnosed with PCOS and hypothyroidism and tried IUI and IVF. If you are trying to conceive, you must have read so much information and tips. However, we still recommend you to take a look at Ashley's story. She can definitely provide you something you cannot find anywhere else. Get a cup of tea or coffee and read.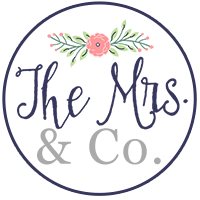 Tell us a little bit about yourself and your TTC journey.
My name is Ashley and my little corner of cyber space is over at
The Mrs. & Co.
I started my blog as a way to document our journey to parenthood and after! I have enjoyed meeting so many women on the same road as us and I hope that you stop by and say hi! I'd love to meet with you and talk a bit.
Our TTC journey started in June 2012. I got off birth control and started taking ovulation tests. I couldn't understand why we weren't getting pregnant. So in January 2013 I saw my OB for my annual and she suggested my husband and I both have some testing done. My blood work came back with elevated TSH levels and my husband's semen analysis came back with very low morphology, which is the shape of the sperm. We decided to handle his diagnosis first. We saw a urologist who diagnosed him with varicoceles and he said our choices were surgery (67% chance success rate) or straight to IVF. We decided to go forward with the surgery. He had the surgery in March 2013 and we were told to come back in June 2013 for a repeat SA (semen analysis) to see if anything had changed.
While we waited I began seeing an RE (reproductive endocrinologist) that diagnosed me with PCOS and hypothyroidism. He said once Kyle's numbers were better he suggested doing an IUI cycle. June finally came around and we went back in for a repeat SA. His numbers had come up a little bit, but not enough to conceive naturally. So we faxed the results to my doctor who said let's move forward with IUI. We purchased the meds, but before ordering I took a pregnancy test to make sure I wasn't pregnant. I wasn't so we moved forward. We kept waiting for my cycle to started, but it never did. I took another test. This 1 showed I was pregnant. We were shocked! Unfortunately I lost that baby 10 days later. We were devastated. My doctor told me to take 2 months off to let my body heal. So we began waiting again.
September 2013 finally rolled around. I was cleared to start our IUI cycle and Kyle went in for his 2nd repeat SA. It was 6 months post op and the doctor told us that this test would tell us for sure if the surgery worked. It didn't. His numbers were worse than pre-surgery. His only suggestion was IVF. We talked with our RE and he agreed. So in September we began IVF #1. I responded wonderfully to the meds. They retrieved 38 eggs, 25 fertilized, and by the end of our 5 day wait, we had 12 beautiful embryos. We transferred 1 in November 2013 which resulted in our daughter Raegan. We plan to do another IVF cycle this summer and pray that it is as successful as our first.
How long have you been trying to conceive, and what is the problem you are facing?
We started trying to conceive in June 2012 and did not have a successful pregnancy until November 2013. It doesn't seem like a long time, but those 17 months were the hardest months of my life.
Who or what inspire/support you to go through the ttc period?
Even though I would never wish this on anyone, I can't tell you enough how much this made our marriage stronger. My husband and I grew together through this and had to rely on each other like we never before.
Can you tell us more about your IVF story? How did you decide to do it? How hard is it? Pros and cons?
When our doctor told us that IVF was pretty much our only option we were stunned. We took a few days to talk and pray about our choice and knew that this was the way that God was going to give us our children. IVF is tough on the woman. Taking all of the shots and stimulating your ovaries WAY more than normal (remember, I developed 38 follicles, my ovaries were the size of apples) takes a toll on your body. The pros of IVF is that we had very good odds for it working. The cons are that there is nothing romantic or surprising about it. We didn't get to surprise our families because they knew what we were doing. It's also physically tough on the woman. I gained weight and pretty much became a human pin cushion for 6 weeks.
Have you tried any ovulation monitor? How do you think it help?
I tried an ovulation monitor before our infertility diagnosis. I loved it. It helped me get in tune with my body to where I could tell physical signs that were telling me I was ovulating.
Last, do you have something to say to those who have similar infertility problem? Any suggestion? Any words to inspire and support them?
Be an advocate for yourself. If you don't feel right about a certain treatment or doctor, find a new one. If you feel that there's a reason you're not getting pregnant, see your doctor. Don't let them tell you "you need to be trying 1 year before we do any testing." Had I waited 1 year, we would have been waiting for nothing. We needed help and I am glad that I stood up for my husband and I and demanded answers.
This journey is tough. Finding other women who wrote blogs like I did was a huge help as well. My husband is amazing, but let's face it, he's a man. Sometimes you just need a woman to talk to that understands what you're going through!
Editor: Check out our tips for increasing fertility during TTC.
Learn more about ovulation and fertility tips from KNOWHEN Eva's World Ebook. For more TTC stories, stay tuned on our blog. We highlight more people every week.